A Fintech application with disruptive innovation for banking & payments. Payments these days have become more secure, seamless, quick and reliable. In contrast, traditional features such as reconciliation, compliance, detection of fraud and analytics remain dependent on obsolete techniques that are unable to manage the extreme payment space information complexity.
Application software with integrated visualization engine is a quick, redundant and safe Big Data Appliance. The application runs under the purview of a firewall.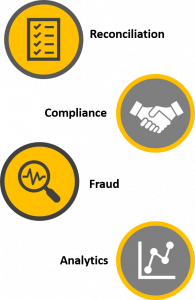 It's no secret that scammers have created advanced technology and algorithms for machine learning that allow them to slip through traditional rules. Just don't let the scammers victimize your business. Not only this, there is a constant effort in the market by businesses to stay ahead of the curve. For this software developers are integrating Machine Learning Algorithms; protecting critical data all the time.
The need of the hour is also to have a product, for better fraud detection so that you can take a better-informed decision before the competition. There is also a high likeability to identify fraud that may have been undetected by in-line systems.
There is an ever-increasing demand for a new generation fintech application software that offers a unique appliance for banking and payments industry. The application software should help solve the problem of back office operations related to reconciliation, compliance, fraud detection and analytics.
The software should take a unique approach towards data management, with a heavy focus and reliance on using Machine Learning (ML) and Artificial Intelligence (AI) at its core, running on a super-fast high-performance computing platform.
The task performed could be as trivial as report generation to as complex as scoring transactions and accounts based on different anomaly detection algorithms. The appliance can sit behind firewall, or the run-in cloud.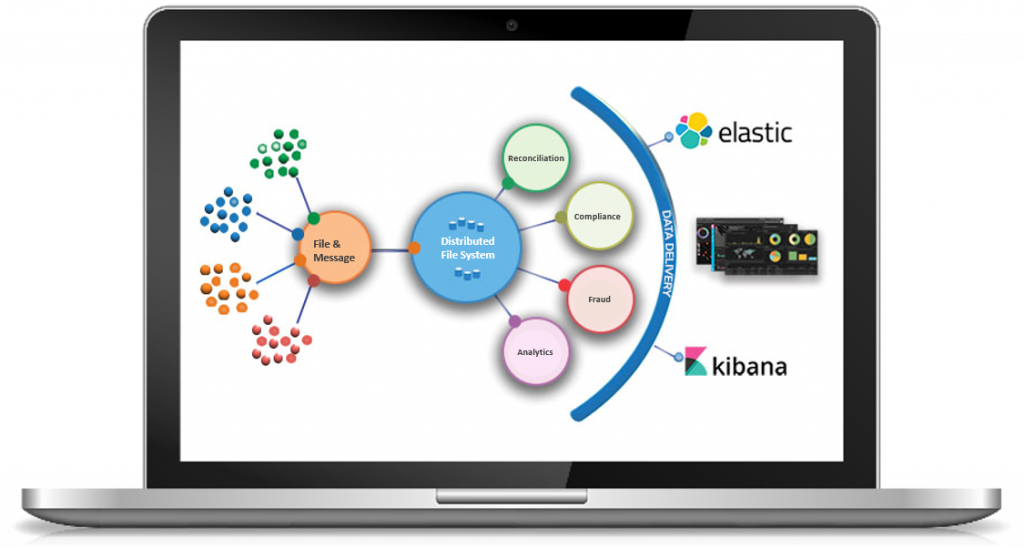 THE SOLUTION
The application platform as an appliance ingests structured and unstructured information from several sources. The data is then homogenized and stored in an extremely fast big data engine. It is built from different functional modules. Once the information is ingested and homogenized, four different modules start working in parallel.
The first module reconciliation performs an accurate and fast n-way reconciliation between bank accounts, processor data and network data. A query and rule-based engine that oversees reconciliation of cards and accounts at unprecedented speeds. Whereas compliance module, oversees all aspects of compliance. It also manages program and product compliance based on velocity and program rules.
The compliance module data is available as pre-built dashboards as well as downloadable reports via portal access. The fraud module is a hybrid machine learning and rule-based engine that detects anomalies in transactions and predicts fraud. With proprietary algorithms and learning techniques, we can spot undetected fraud and predict fraudulent behaviour before it happens.
There is a predictive engine for analytics as well. This is extremely flexible engine allows you to customize dashboards and report to your choosing. With a single place to look at, you can have information at your fingertips every time you need it. One can easily translation broad data into actionable insights.
All your data are covered by these hard-working modules. From the production of daily reports to the complex evaluation task of transactions and accounts, they are all based on different algorithms for anomaly deletion.
The application is fundamentally flexible.  While it is a firewalled appliance, the application software is cloud friendly, and can be deployed on 'AWS' and 'Azure' respectively. All this information is presented via our data delivering engine using powerful technologies like 'Elastic' and 'Kibana'.
SALIENT FEATURES

Reconciliation: Connects bank accounts, processes information and network information accurately and quickly. It is a query and regulatory based engine which monitors your account and card reconciliation at unprecedented speeds.
Compliance: It monitors all compliance elements. It also administers compliance with programs and products based on velocity and program rules. Data can also be downloaded through an easy-to-use gateway as pre-constructed dashboards.
Fraud: It is a hybrid machine learning and rule-based engine that detects transactional anomalies. We can spot undetected fraud with patented algorithms and learning methods and, at times, predict fraud before it occurs. This module is intended for the detection of out-of-line fraud.
Analytics: It is an analytical predictor. You can tailor your dashboards and reports to your specific needs with an extremely flexible engine. You can have the whole information at your fingertips with a single search location, whenever you need it.
TECHNOLOGY
            (Visualization Tools)
Tableau
Kibana
Power BI
Fusion Charts

Emorphis Technologies is a world class software development and solutions company which truly believes in "Innovation in motion". Delivery innovation on the go at accelerated pace has been our success mantra till date. Over the years we have provided value to our clients in the field of enterprise mobility, cloud, IoT, backend development, Big Data Analytics, and Block Chain.
We serve industries ranging from unicorns, and startups to large multinationals in the healthcare, telecommunications, fintech, retail and publishing industry. Our go to market software products – iStatement, iPublisher and iBuggy have proved our metal with positive beneficial customer testimonials. We help our client in successful product development, consulting services and testing (manual & automated).
We have profound experience & expertise on various technologies like .Net, J2EE, PHP, iOS, Android and Cloud Computing viz. Amazon Web services (AWS), Software QA & testing (Manual & Automation). Our designed products are cloud ready and can be readily deployed on AWS/Azure cloud infrastructure.
Our pivot on engineering innovation and R&D helps quicken time-to-market, ensuring high quality at economies of scale, delivering cult competency  for the global marketplace. We ensure that your ideas, concepts and requirements are backed by brilliant execution at our end. Having said that we extend end-to-end ownership of product/application design, development and deployment.
Contact us
(USA)
+1 408 409 7548
+1 408 409 2024
(India)
+91 731 408 9351