Implementing Salesforce to manage a medical clinic with physicians working with different specializations and to manage the process of appointment scheduling with minimum clicks. 
The major aim of the project is to manage the process of appointment. The appointment process should be based on the doctor's availability tracked from the Google calendar or from the availability record of the physician.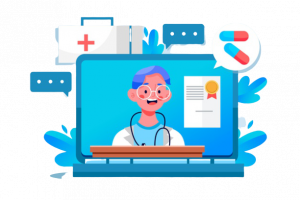 USA, California based software studio, offering software products in the Healthcare domain.
The major challenge is that appointment scheduling should be done with minimum clicks and utmost ease.

The other challenge is to manage the appointment process as it must link to the Google calendar of physicians.

Ensure that the physician does not need to share his/her Google calendar with the person in charge to book the appointment.

To maintain doctors' details with their specializations and respective fees, as

each specialization has its own appointment price and each specialization can have multiple physicians.

To manage and track the availability of the physician from the calendar or from the physician's availability records.

To maintain necessary patient details and related appointment details.
OUR SOLUTION

Created a solution by customizing the Salesforce features to deliver the best experience in managing the workflow for the medical clinic.

Created Custom objects to manage patient details, manage doctors with their specialization and fee, and track availability.

Created a Salesforce lightning component to achieve the appointment scheduling process in a single view with minimum clicks and utmost ease.

Created a solution for physicians ready for Google API Integration with their calendars to manage appointments.

Custom development to track the available slots of physicians from the calendar, if Google API is integration available for physicians or from physician's availability records.
Emorphis Technologies is a world-class software development and solutions company that truly believes in "Innovation in motion". Delivery innovation on the go at an accelerated pace has been our success mantra to date. Over the years we have provided value to our clients in the field of enterprise mobility, cloud, IoT, backend development, Big Data Analytics, and Blockchain.
We serve industries ranging from unicorns, and startups to large multinationals in the healthcare, telecommunications, fintech, retail, and publishing industry. Our go-to-market software products – iStatement, iPublisher, and iBuggy have proved our metal with positive beneficial customer testimonials. We help our clients with successful product development, consulting services, and testing (manual & automated).
We have profound experience & expertise in various technologies like .Net, J2EE, PHP, iOS, Android, and Cloud Computing viz. Amazon Web services (AWS), Software QA & testing (Manual & Automation). Our designed products are cloud-ready and can be readily deployed on AWS/Azure cloud infrastructure.
Our pivot on engineering innovation and R&D helps quicken time-to-market, ensuring high quality at economies of scale, delivering cult competency for the global marketplace. We ensure that your ideas, concepts, and requirements are backed by brilliant execution at our end. Having said that we extend end-to-end ownership of product/application design, development, and deployment.
Contact us
(USA)
+1 408 409 7548
+1 408 409 2024
(India)
+91 731 408 9351