Salesforce Sustainability Cloud is a carbon accounting product for businesses to drive climate action that will accelerate the world's efforts toward carbon neutrality.
In this project, the goal is to use the Salesforce sustainability platform which will enable the business to quickly track, analyze and report reliable environmental data which will help to reduce carbon emissions and get a 360 degree of the environmental impacts of the business to bringing the necessary changes to save the planet which is the need of the hour. 
This project aims at providing the carbon footprint with the maximum accuracy because once an organization understands its carbon footprint, decision-makers can begin to drive sustainability solutions.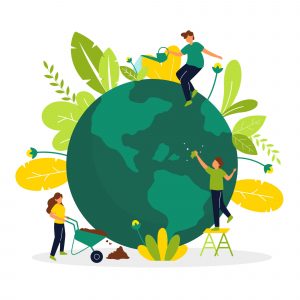 The major challenge is to track the organization's carbon footprint for each fiscal year.

Analyzing carbon emissions from energy usage and company travel is another major challenge.

The challenge is to formulate a climate action plan for the company.

To get a snapshot of energy use patterns and get detailed energy consumption data.

To maintain records of all the assets of the organization.

To manage all the energy providers' details.

Identifying emission factors is another major challenge.

Getting an analytical view of the entire carbon emission and footprint calculation process.
Created a solution by using the

Salesforce

sustainability cloud that gives a 360-degree view of the environmental impact and provides data-driven insights that help to easily track the carbon footprints of the organization.

With all the data flowing directly into one platform, it becomes very easy to track carbon emissions and energy usage.

Used sustainability cloud features and the trusted reference data inbuilt into the cloud to formulate an effective climate action plan.

Used audit features to ensure the accuracy of carbon accounting.

Used the organization asset object of the sustainable cloud to effectively manage asset records.

Used the Einstein Analytics dashboards to get the analytical view, to track energy patterns and emission trends.
Emorphis Technologies is a world-class software development and solutions company that truly believes in "Innovation in motion". Delivery innovation on the go at an accelerated pace has been our success mantra to date. Over the years we have provided value to our clients in the field of enterprise mobility, cloud, IoT, backend development, Big Data Analytics, and Blockchain.
We serve industries ranging from unicorns, and startups to large multinationals in the healthcare, telecommunications, fintech, retail, and publishing industry. Our go-to-market software products – iStatement, iPublisher, and iBuggy have proved our metal with positive beneficial customer testimonials. We help our clients with successful product development, consulting services, and testing (manual & automated).
We have profound experience & expertise in various technologies like .Net, J2EE, PHP, iOS, Android, and Cloud Computing viz. Amazon Web services (AWS), Software QA & testing (Manual & Automation). Our designed products are cloud-ready and can be readily deployed on AWS/Azure cloud infrastructure.
Our pivot on engineering innovation and R&D helps quicken time-to-market, ensuring high quality at economies of scale, delivering cult competency for the global marketplace. We ensure that your ideas, concepts, and requirements are backed by brilliant execution at our end. Having said that we extend end-to-end ownership of product/application design, development, and deployment.
Contact us
(USA)
+1 408 409 7548
+1 408 409 2024
(India)
+91 731 408 9351