The Salesforce system was implemented but the challenge was to integrate DocuSign with salesforce and automating the document signing process for the client. This was achieved by creating appropriate Apex class and Apex triggers.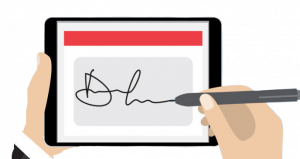 A manufacturer of audio products. They also provide solutions that power immersive cinema, live performance audio, themed entertainment experiences and digital collaboration and meeting experiences.
They consist of a team of 400 people working dedicatedly to deliver high performance, highly reliable, scalable and flexible solutions to its customers.
Being a manufacturer, they have expertise in demand planning, parts procurement, operations and logistics, computer-controlled precision assembly and rigorous testing and control.
Currently, the client uses Docusign for sending various documents to its customers for getting them signed digitally based on the customer's country. As soon as the documents are signed, the records in salesforce are to be updated.
All the documents currently are sent from docusign manually by selecting a template based on Account's country. This process needs to be automated and the documents should be sent after updating a record on salesforce.
The signed document should be saved in record's attachment.
OUR SOLUTION

Installed and configured Docusign for Salesforce and Docusign for Salesforce essentials.
Automated sending the document to customers based on the country.
The records in salesforce were updated whenever the customers opened the document and signed the document.
Email sent to the customer had a custom template based on the type of document replacing the original docusign email template.
The signed document is saved in account's attachment automatically as soon as the signing process is completed.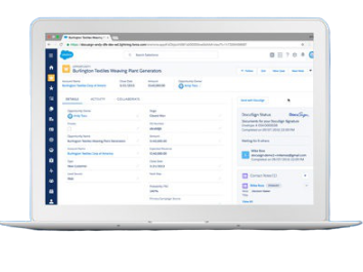 BUSINESS BENEFITS

After the completion of the project the client could complete all its process of agreement from salesforce without navigating to any third party tool.
The agreement type that was to be signed was selected automatically based on the type of customer.
The client did not have to write email body and email subject manually. The email body and subject contained details from the salesforce record with whom the agreement was going to be made.
Emorphis Technologies is a world class software development and solutions company which truly believes in "Innovation in motion". Delivery innovation on the go at accelerated pace has been our success mantra till date. Over the years we have provided value to our clients in the field of enterprise mobility, cloud, IoT, backend development, Big Data Analytics, and Block Chain.
We serve industries ranging from unicorns, and startups to large multinationals in the healthcare, telecommunications, fintech, retail and publishing industry. Our go to market software products – iStatement, iPublisher and iBuggy have proved our metal with positive beneficial customer testimonials. We help our client in successful product development, consulting services and testing (manual & automated).
We have profound experience & expertise on various technologies like .Net, J2EE, PHP, iOS, Android and Cloud Computing viz. Amazon Web services (AWS), Software QA & testing (Manual & Automation). Our designed products are cloud ready and can be readily deployed on AWS/Azure cloud infrastructure.
Our pivot on engineering innovation and R&D helps quicken time-to-market, ensuring high quality at economies of scale, delivering cult competency  for the global marketplace. We ensure that your ideas, concepts and requirements are backed by brilliant execution at our end. Having said that we extend end-to-end ownership of product/application design, development and deployment.
Contact us
(USA)
+1 408 409 7548
+1 408 409 2024
(India)
+91 731 408 9351