The client is a Mumbai based NBFC player, providing loans and finance facility. The company wanted to build a mobile app that would encourage more online customer acquisitions through technology enablement.
The mobile app serves as an intermediary between the finance company and the customers to get a loan on favorable terms.

The client company is a Mumbai based NBFC with its primary focus on lending business loans to small and medium business enterprise. The major objective is to leverage organisation capability and existing infrastructure to create a large, professionally managed NBFC platform which will be a lender of choice to the growing MSME growth and working capital requirements in India.
With a major focus on enabling small and medium business organizations with a continuous supply of working capital, NBFC Co. Credit is also set to explore opportunities in securitization space to create liquidity, increase revenues and profit pool.
For small NBFC players, most of the processes and business activity are manual. To make financing and loan services available for web and mobile users, NBFC Co. wanted to create a web & mobile application. The idea and concept are for Sales Reps / Service Agents to be with a smartphone / tablet while interacting and engaging with the customers.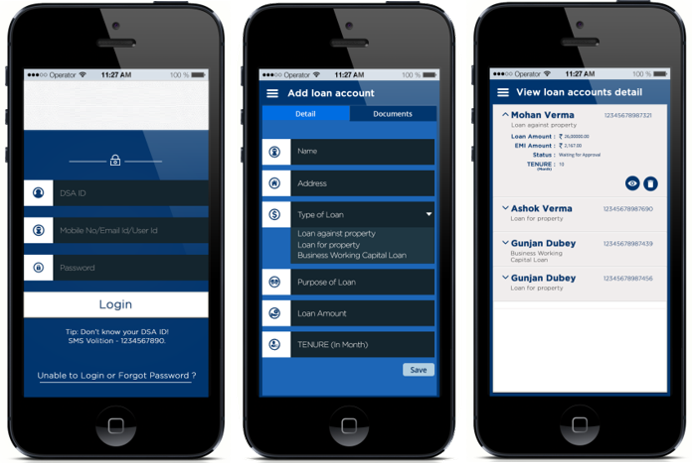 Team Emorphis worked closely with the client NBFC Co. to outline a comprehensive digital strategy, defining the objectives and features which needed to be prioritized for the first iteration of the app.
From there, we created detailed product requirements that would deliver the most value for our client. We then created a modern, intuitive application design and wrote copy for the entire app experience. The result was a web and mobile platform for both service agents & customers.
SALIENT FEATURES

Web and mobile based platform for service agents & customers
Create and manage loan accounts
Loan account reviews & approvals
View loan account status
Upload documents
Update loan status
View loan summary
Customers can pay EMIs from web / mobile
Role based access
TECHNOLOGY

APPLICATION BENEFITS

Developed push notifications for customer alerts, critical information, and more.
Created Quick View to display critical financial information on login screen.
Secured access as the login is using authenticated credentials such as DSA ID for agents and mobile number / email ID / User ID for customers.
Add & view loan account details.
Emorphis Technologies is a world class software development and solutions company which truly believes in "Innovation in motion". Delivery innovation on the go at accelerated pace has been our success mantra till date. Over the years we have provided value to our clients in the field of enterprise mobility, cloud, IoT, backend development, Big Data Analytics, and Block Chain.
We serve industries ranging from unicorns, and startups to large multinationals in the healthcare, telecommunications, fintech, retail and publishing industry. Our go to market software products – iStatement, iPublisher and iBuggy have proved our metal with positive beneficial customer testimonials. We help our client in successful product development, consulting services and testing (manual & automated).
We have profound experience & expertise on various technologies like .Net, J2EE, PHP, iOS, Android and Cloud Computing viz. Amazon Web services (AWS), Software QA & testing (Manual & Automation). Our designed products are cloud ready and can be readily deployed on AWS/Azure cloud infrastructure.
Our pivot on engineering innovation and R&D helps quicken time-to-market, ensuring high quality at economies of scale, delivering cult competency  for the global marketplace. We ensure that your ideas, concepts and requirements are backed by brilliant execution at our end. Having said that we extend end-to-end ownership of product/application design, development and deployment.
Contact us
(USA)
+1 408 409 7548
+1 408 409 2024
(India)
+91 731 408 9351