We established a remote generator monitoring system that enables telecommunication companies to remotely monitor and operate generators on a remote base station.
The remote generator monitoring system is an end-to-end smart monitoring and maintenance solution best fit for telecommunication companies to monitor various parameters of generators located at remote base stations.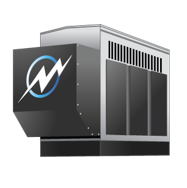 The use of generators is common with telecom companies. There is an ever-increasing dependency on diesel generators for telecom service providers, broadcasters and utilities. With the use of generators arises set challenges such as – maintaining quality of power grid, asset protection, generator general maintenance, fuel theft check, and human / manual dependency.
With the rising cost of diesel, remote site operators are looking at innovative ways to manage remote monitoring and reduce diesel bills.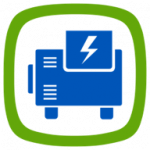 THE REQUIREMENT

Client company was looking for real time monitoring of diesel generator parameters such as input AC power supply, output supply status, fuel level check, vibrations, and temperatures.
The requirement was for a remote generator monitoring system which can monitor a combination of analog / digital devices with features viz. – generator status, manual mode, common alarm, intrusion alarm, measuring the fuel level or engine temperature etc. An overall solution to ensure diesel generators are running at optimum efficiency with reduced cost.
KEY SPECIFICATIONS

Monitor health and readiness parameters – Oil pressure, engine temperature, battery voltage, power output, diesel levels, engine run time and engine RPM.
Remote operation & control – Remotely start and stop the generator in the field from any location.
Alarm management – To receive alarm notifications through SMS / email when the fuel consumption pattern changes.
Remote configuration of Gen Set controllers – Combine standard remote monitoring capabilities with remote configuration.
One of the significant challenges was to monitor and maintain the power grid network within the remote generator substation. The need was for a remote supervisory control and a data acquisition system with the help of a fully functional and workable prototype.
Team Emorphis with its deep industry experience knew for a fact that diesel generators are capable of monitoring input and output power condition. We took advantage of the fact and developed a hardware to access the current state over RS232 protocol, and that can be controlled by a web interface developed by our expert team with features like – turning the system 'on' and 'off'.
This system can communicate with GSM / GPRS network using modem. We designed complete back end web infrastructure to store the real time parameters using TCP / IP communication over GPRS link.  Our team applied real time parameters capturing technologies to build supervisory interface to control DG operations using SMS interface.
Emorphis also designed small embedded system which take input from DG over serial interface and control the operation using same interface.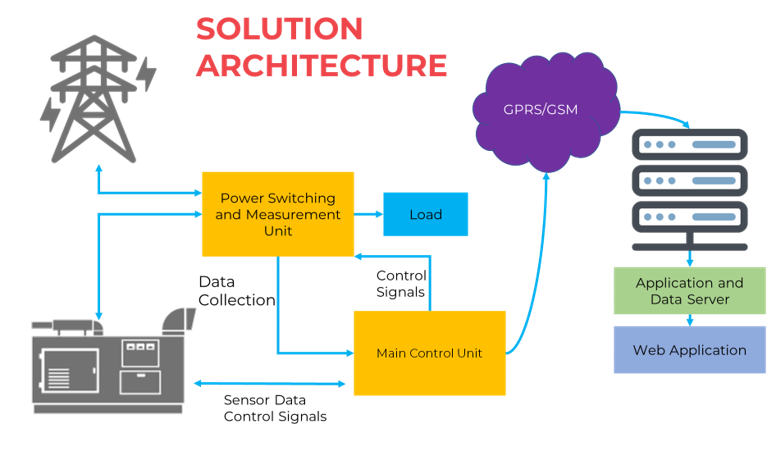 Integrated with Supervisory Control / Data Acquisition System and Monitoring Software
GPRS / GSM Communication
Push-based data acquisition to the Supervisory Control / Data Acquisition System
Instant email / SMS alarms to alert maintenance engineer
Real time updates & parameters acquisition
Reliable 24×7 server solution facility
Generation of analytics reports and logs
Easy to setup and use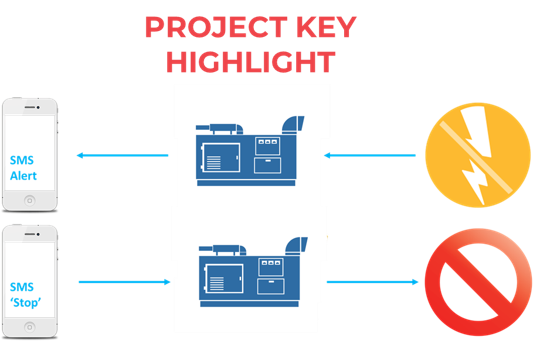 Emorphis Technologies is a world class software development and solutions company which truly believes in "Innovation in motion". Delivery innovation on the go at accelerated pace has been our success mantra till date. Over the years we have provided value to our clients in the field of enterprise mobility, cloud, IoT, backend development, Big Data Analytics, and Block Chain.
We serve industries ranging from unicorns, and startups to large multinationals in the healthcare, telecommunications, fintech, retail and publishing industry. Our go to market software products – iStatement, iPublisher and iBuggy have proved our metal with positive beneficial customer testimonials. We help our client in successful product development, consulting services and testing (manual & automated).
We have profound experience & expertise on various technologies like .Net, J2EE, PHP, iOS, Android and Cloud Computing viz. Amazon Web services (AWS), Software QA & testing (Manual & Automation). Our designed products are cloud ready and can be readily deployed on AWS/Azure cloud infrastructure.
Our pivot on engineering innovation and R&D helps quicken time-to-market, ensuring high quality at economies of scale, delivering cult competency  for the global marketplace. We ensure that your ideas, concepts and requirements are backed by brilliant execution at our end. Having said that we extend end-to-end ownership of product/application design, development and deployment.
Contact us
(USA)
+1 408 409 7548
+1 408 409 2024
(India)
+91 731 408 9351