Retail open-to-buy planning is essential to ensure the optimum level of inventory to support sales plans and to maximize the return on capital invested in merchandise inventory. Open-to-buy controls are a key element in the effective financial and merchandise control of a modern retailer.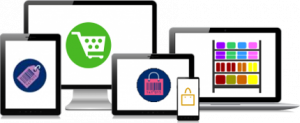 The challenge with the retail sector is to make sure that supply is regulated appropriately with potential sales by bringing in stock levels that provide the desired service level without incurring wastage from the markdown. Retailers have a common tendency to overstock when sales increase substantially and to understock when sales figures are low.
THE SCENARIO

Thus, a relatively marginal increase in sales leads to excessive buying, and when the sales slow down high markdowns are taken to clear out this excess supply of merchandise. This in turn leads to lower gross profit margin and overall store profit. The goal of merchandising should be to optimize and maintain an adequate level of inventory that provides adequate assortments when sales are low and not excessively high assortments when sales pick up. This is where open-to-buy comes into play. It tells you how much inventory should be on hand at the beginning of any given month and how much new merchandise should be received during the month.
Retail stores usually have custom-made systems that store the relevant data and provide a web-based interface. At the same time, IT companies have floated products that provide such features, and such products are now seeing an increase in the number of installations. For enabling a mobile interface to the features provided by these systems, an integration layer is required.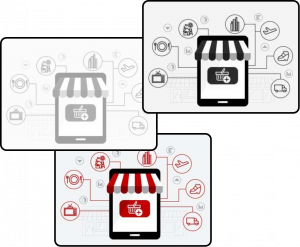 Following an assessment of viable options, we at Emorphis chose our merchandising planning solution to provide a single, integrated process that links all buying and merchandising functions.
This standardization enabled our client to establish more effective, collaborative cross-organizational procedures, such as the alignment of B&M (Buying & Merchandising) product plans with retail store plans.
At first, we focused on immediate stocking issues. This module provided an ongoing analyzable stock view, sales, and intake, which helped our client to constantly adjust sales forecasts, promotions, and intake to proactively manage stock levels. This not only optimized profits and reduced wastage but also improved trend tracking and enabled better control of seasonal transitions.
Secondly, we planned 'joined up' pre-season merchandise planning activities such as store planning, clustering, and assortment planning. By matching sales potential with available space, stock, and historical sales data, the retailer better formulates the width and depth of assortments and allocations to support customer demand throughout its diversified portfolio.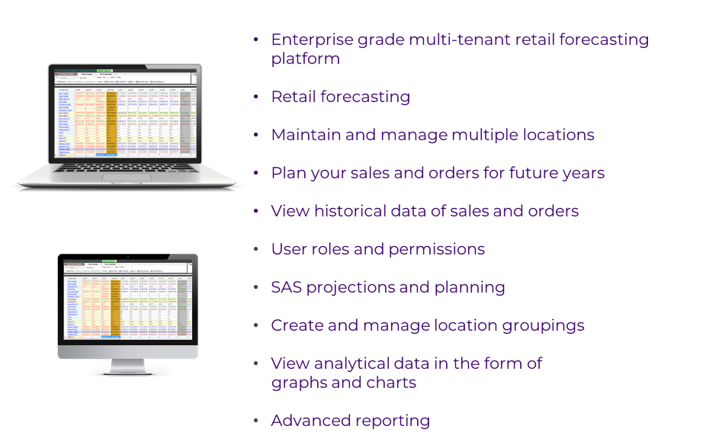 APPLICATION BENEFITS
Ability to estimate in advance the amount of cash that will be required to be invested in inventory from month to month for the coming season.
Help to ensure an adequate amount of inventory on hand to support the level of planned sales.
Keep a fresh flow of new merchandise coming into the store throughout the season. This keeps the customer interested and coming back to the store, again and again, helps keep sales staff motivated, and helps your cash flow.
Establishes goals so actual performance can be compared to the plan, thereby pointing out those areas where corrective actions need to be taken.
TECHNNOLOGY

The application is built on technologies like C#, SQL Server, Excel, and Add-ons for reporting.

Emorphis Technologies is a world-class software development and solutions company that truly believes in "Innovation in motion". Delivery innovation on the go at an accelerated pace has been our success mantra to date. Over the years we have provided value to our clients in the field of enterprise mobility, cloud, IoT, backend development, Big Data Analytics, and BlockChain.
We serve industries ranging from unicorns, and startups to large multinationals in the healthcare, telecommunications, fintech, retail, and publishing industry. Our go-to-market software products – iStatement, iPublisher, and iBuggy have proved our metal with positive beneficial customer testimonials. We help our clients with successful product development, consulting services, and testing (manual & automated).
We have profound experience & expertise in various technologies like .Net, J2EE, PHP, iOS, Android, and Cloud Computing viz. Amazon Web services (AWS), Software QA & testing (Manual & Automation). Our designed products are cloud-ready and can be readily deployed on AWS/Azure cloud infrastructure.
Our pivot on engineering innovation and R&D helps quicken time-to-market, ensuring high quality at economies of scale, delivering cult competency for the global marketplace. We ensure that your ideas, concepts, and requirements are backed by brilliant execution at our end. Having said that we extend end-to-end ownership of product/application design, development, and deployment.
Contact us
(USA)
+1 408 409 7548
+1 408 409 2024
(India)
+91 731 408 9351