This app is dedicated to building jobs, and enables workers to connect with the building site to send security notifications.
Its main feature is geofencing to ensure the worker's security and improve flow management.
Digital Social Retail –
Armed with advanced know-how in new technologies, coupled with market experience and a whole lot of passion, Digital Social Retail met the rising need for in-store communication and POS traffic creation.
With R&D based in France and Israel, the products have been extensively studied and tested by experts to ensure clients have the highest satisfaction. With new and evolving features continuously developing, the goal is simple: Helping to increase sales for clients.
Thanks to internal passion, the company has developed innovative solutions for streaming through multimedia.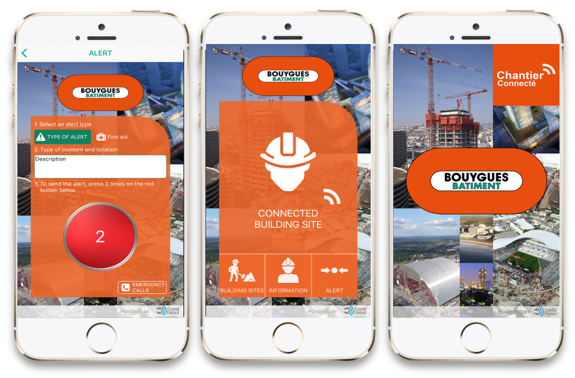 Construction is a high-hazard industry that comprises a wide range of activities involving construction, alteration, and/or repair. Ensuring the security of building/construction workers is one of the key priorities for construction companies. This creates a win-win situation when you try to ensure the security of construction workers. The workers feel safer and more secure at work, thus removing distractions that can undermine productivity.
There is a legal obligation to safeguard construction workers from harm. By taking steps such as a dedicated mobile app for security and emergency evacuation alerts, can prove you are proactive about security.
The BLE-based beacon mobile application works on the principle of geofencing. The mobile app sends push notifications to the workers working on the site. This app is very helpful in sending emergency alerts in case of any crisis, and avoiding accidents and casualties. The app is bilingual and is available in English and French.
The information, tools, and resources provided in this mobile app are designed to assist those in the industry – whether workers or employers – to identify, reduce, and eliminate construction-related hazards.
Enables connecting workers with the building site to send security notifications.
Geofencing to ensure the worker's security and improve flow management.
BLE beacon integration.
Emergency alerts.
Push notifications.
Available in English & French language.
The application runs on a dedicated iOS platform.

APPLICATION BENEFITS
The mobile app helps you spend less time on tasks without cutting corners, so you can accomplish more in your workday and make a bigger impact on your company's safety program.
The mobile app can help you streamline daily management activities, assist with alert management, record workplace observations, and offer collaboration between team members – all from the palm of your hand.
Having a safety and security app gives Authorized Personnel instant access to everything they need to do their jobs. The mobility streamlines their day-to-day activities by allowing them to work on the go without restrictions.
Emorphis Technologies is a world-class software development and solutions company that truly believes in "Innovation in motion". Delivery innovation on the go at an accelerated pace has been our success mantra to date. Over the years we have provided value to our clients in the field of enterprise mobility, cloud, IoT, backend development, Big Data Analytics, and Blockchain.
We serve industries ranging from unicorns, and startups to large multinationals in the healthcare, telecommunications, fintech, retail, and publishing industry. Our go-to-market software products – iStatement, iPublisher, and iBuggy have proved our metal with positive beneficial customer testimonials. We help our clients with successful product development, consulting services, and testing (manual & automated).
We have profound experience & expertise on various technologies like .Net, J2EE, PHP, iOS, Android and Cloud Computing viz. Amazon Web services (AWS), Software QA & testing (Manual & Automation). Our designed products are cloud ready and can be readily deployed on AWS/Azure cloud infrastructure.
Our pivot on engineering innovation and R&D helps quicken time-to-market, ensuring high quality at economies of scale, delivering cult competency  for the global marketplace. We ensure that your ideas, concepts and requirements are backed by brilliant execution at our end. Having said that we extend end-to-end ownership of product/application design, development and deployment.
Contact us
(USA)
+1 408 409 7548
+1 408 409 2024
(India)
+91 731 408 9351