The EmoPPU app is a unique application for Emotron AC drive control. It creates a virtual PPU control panel on Android smartphones supporting Bluetooth 4.0. The EmoPPU app works through BLE (Bluetooth Low Energy) connectivity i.e. connects with the FDU/VFX AC drive control panel through a Bluetooth connection.
Using the app, you can monitor all running parameters and easily control the functionality of the AC drive like speed, parameter update, run, stop, languages etc within normal Bluetooth range, approximately 10 meters from your device.
CG Power and Industrial Solutions Limited, previously known as Crompton Greaves (CG) is an Indian multinational company engaged in design, manufacturing, and marketing of products related to power generation, transmission, and distribution based in Mumbai. It is part of the Avantha Group.
CG's product and services can be categorized into Power Systems, Industrial Systems, Automation System and Consumer Products. In India CG has a PAN Indian presence across North, East, West and South region. CG labs has received NABL accreditation for five of its labs, and 1 calibration lab.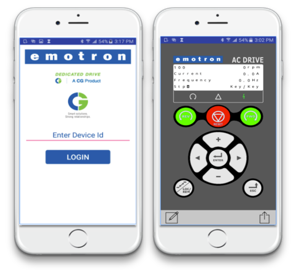 THE REQUIREMENT
CG wanted to control and manage the operations of Emotron AC remotely (max. distance 1 meter) using mobile application. Emotron AC drives offer efficient and reliable control of pumps, fans, blowers, centrifuges, compressors, conveyors, saws, cranes, crushers, mills, mixers, and lifts etc.
The PPU is a Picture Processing Unit (PPU) is the integrated circuit responsible for generating video signals from graphic data stored in the memory. The chip is known for its efficient use of memory, using very little memory to store graphical data.
Emorphis mobile application design and development team, came up with a tech-savvy unique industrial application – mobile app. The mobile app with the help of Bluetooth 4.0 interface can operate to control the Emotron AC Drivers from a maximum distance of 10 meters. The application must be logged in using authenticated credentials. On the screen then appears a state-of-the-art remote-control GUI. All parameters check and balances such as rpm run, frequency and current are showcased on the mobile screen in real time.  With touch, screen button interface the machine can be reset, forward, and reversed.
SALIENT FEATURES

Wireless remote control of your AC Drive using the EmoPPU app through BLE (Bluetooth Low Energy) 4.0 technology.
Password protected application, preventing unauthorized access.
Automatic sync of mobile current date-time to physical PPU at the time of connection.
The users can run/stop motor through the app, when the drive is in local control.
Supports 11 languages – English, Svenska, Nederlands, Deutsch, Francais, Espanol, Pyccknn, Italiano, Czech, Turkish, Chinese.
Automatic disconnect when smartphone goes out of PPU BLE range.
Cannot connect to any other smartphone when already connected.
Designed to run on both Android & IOS platform.
APPLICATION BENEFITS

By using Bluetooth technology low energy conservation is ensured.
Secured access as the login is using authenticated credentials.
The machines can be managed and controlled remotely without an engineer being physically present to control the device.
The mobile app has been rated 5 stars consistently by all industrial users.
Pop up confirmation message to run/stop motors.
The application comes with an added provision to add/delete favorite Bluetooth ID's with its set drive name or directly select last entered ID.
USE OF EMOSOFTCOM

The EmoSoftCom is a front-end application used to control different AC Drives in multiple Industrial environments.
This application is used to configure, control, monitor, troubleshoot and maintain the AC Drives.
The application has user management and up to 255 drives can be connected simultaneously with help of this application.
The application use MODBUS protocol over RS-232,485 or TCP/IP to connect to AC Drive.
The application gives complete inside of AC drive with the help of listing all the parameters, showing real-time graphs, logging errors and generate reports.
TECHNOLOGY USED

Developed using native technologies – Objective C for iOS, Core Java for Android.
EmoSoftCom from an IoT perspective.
QT with C++

Emorphis Technologies is a world class software development and solutions company which truly believes in "Innovation in motion". Delivery innovation on the go at accelerated pace has been our success mantra till date. Over the years we have provided value to our clients in the field of enterprise mobility, cloud, IoT, backend development, Big Data Analytics, and Block Chain.
We serve industries ranging from unicorns, and startups to large multinationals in the healthcare, telecommunications, fintech, retail and publishing industry. Our go to market software products – iStatement, iPublisher and iBuggy have proved our metal with positive beneficial customer testimonials. We help our client in successful product development, consulting services and testing (manual & automated).
We have profound experience & expertise on various technologies like .Net, J2EE, PHP, iOS, Android and Cloud Computing viz. Amazon Web services (AWS), Software QA & testing (Manual & Automation). Our designed products are cloud ready and can be readily deployed on AWS/Azure cloud infrastructure.
Our pivot on engineering innovation and R&D helps quicken time-to-market, ensuring high quality at economies of scale, delivering cult competency  for the global marketplace. We ensure that your ideas, concepts and requirements are backed by brilliant execution at our end. Having said that we extend end-to-end ownership of product/application design, development and deployment.
Contact us
(USA)
+1 408 409 7548
+1 408 409 2024
(India)
+91 731 408 9351