Increasing sales in-store with mobile apps that make shopping in showrooms as easy as online shopping.
Today's knowledgeable customers are armed with research and product data before even entering a shop. How could Samsung, whose showroom partners used antiquated "mobile screen" technology to help clients make shopping and purchasing as informative, simple, and engaging as it is online?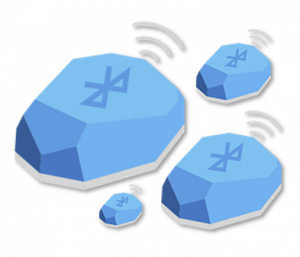 Samsung is a South Korean multinational conglomerate headquartered in Samsung town, Seoul. It comprises numerous affiliated businesses, most of them united under the Samsung brand, and is the largest South Korean conglomerate.
Samsung is a major electronic brand, though they have diversified operations in industry sectors such as – food processing, textiles, insurance, securities, construction, shipbuilding, and retail.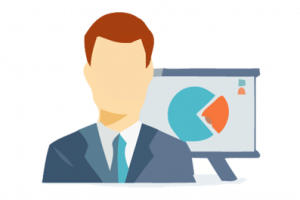 Consumers would appreciate the convenience of browsing and researching products online in an ideal shopping experience while at the same time being able to physically touch items and connect with product specialists personally before making a purchase decision. Consumers want the best of both worlds, seamless online shopping coupled with an in-store shopping experience.
While collecting information has become a norm and a critical aspect of the buying cycle, digital demand for that data does not stop. Consumers increasingly want and expect the conveniences of internet shopping to exist in physical retail stores — quick access to product data, simple checkouts, and more.
Retailers need to essentially change their selling floor strategies to satisfy these expectations, concentrating less on the number of transactions and more on engaging clients while offering a seamless, interactive, and easy path to purchase.
Emorphis Technologies mobile portfolio development team worked together to develop an in-store beacon-based retail store app. After engaging in a design workshop that included feedback from store representatives about their daily job operations, the app features were finalized.
The applications designed to work together on both tablets and mobile devices, allow sales reps to access real-time information, store navigation, and location sharing via social media platforms, all without leaving the side of the customer or disrupting the sales process. The app also helps representatives make personalized recommendations, suggest products based on past purchases, and record customer favorites.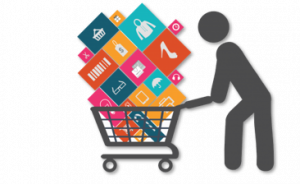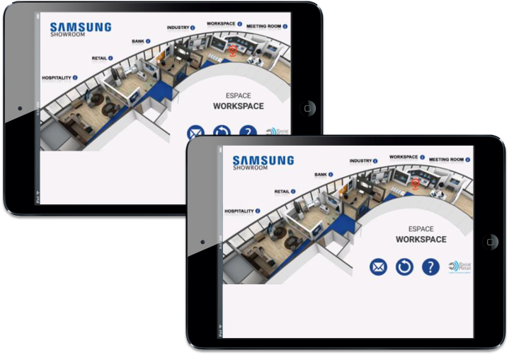 SALIENT FEATURES
Real-time user location tracking within a Samsung Showroom.
Bluetooth-based beacon integration in application.
Helps users to navigate within the Samsung Showroom.
User will get notifications on the description of their current place whenever he/she changes their location.
Customized Social Retail beacon SDK as per application requirement.
Users can also email his/her current position via email/social networking platforms.
Developed for the Android tablet platform.
Use of IoT Technology.
APPLICATION BENEFITS

Today, all representatives of Samsung's retail store, enticed by the ease and improved characteristics and functionality of the solution, have happily embraced the mobile app.
The technology allows them to answer nearly any customer query without disengaging to find a response or leave the floor shop.
Consequently, half of what it used to be is the time it takes for a client to pick a product, select services, and delivery. What's more, the new application helped to boost average order volume and decrease average discounts compared to the old arrangement.
TECHNOLOGY
Developed for Android Samsung tabs using Core Java

Emorphis Technologies is a world-class software development and solutions company that truly believes in "Innovation in motion". Delivery innovation on the go at an accelerated pace has been our success mantra to date. Over the years we have provided value to our clients in the field of enterprise mobility, cloud, IoT, backend development, Big Data Analytics, and BlockChain.
We serve industries ranging from unicorns, and startups to large multinationals in the healthcare, telecommunications, fintech, retail, and publishing industry. Our go-to-market software products – iStatement, iPublisher, and iBuggy have proved our metal with positive beneficial customer testimonials. We help our clients with successful product development, consulting services, and testing (manual & automated).
We have profound experience & expertise in various technologies like .Net, J2EE, PHP, iOS, Android, and Cloud Computing viz. Amazon Web services (AWS), Software QA & testing (Manual & Automation). Our designed products are cloud-ready and can be readily deployed on AWS/Azure cloud infrastructure.
Our pivot on engineering innovation and R&D helps quicken time-to-market, ensuring high quality at economies of scale, delivering cult competency for the global marketplace. We ensure that your ideas, concepts, and requirements are backed by brilliant execution at our end. Having said that we extend end-to-end ownership of product/application design, development, and deployment.
Contact us
(USA)
+1 408 409 7548
+1 408 409 2024
(India)
+91 731 408 9351