Smartphones have become an irreplaceable professional and social tool. Mobile apps are now much more popular and efficient than websites.
Social Retail is a revolutionary application that allows you to receive proximity-based notifications about special offers and events from our partners worldwide. With the Social Retail app, you will never miss any deal or information when walking by physical stores and locations.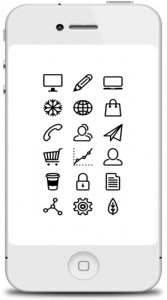 Armed with advanced know-how in new technologies, coupled with market experience and a whole lot of passion, Digital Social Retail met the rising need for in-store communication and POS traffic creation.
With R&D based in France and Israel, the products have been extensively studied and tested by experts to ensure clients have the highest satisfaction.
With new and evolving features continuously developing, the goal is simple: Helping to increase sales for our clients.
Thanks to the internal passion, the team has developed innovative solutions for streaming through multimedia.
Cross-channel convergence has always been a major difficulty for retail brands. For physical retail outlets based on brick and mortar model, there is a set challenge of competing with self when developing an e-shopping site.
Another parameter is to distribute and control the brand image and bring more customers into the stores. Retail operators want to build customer loyalty for both offline and online channels. Another key question that retailers are looking answers for – is how to make retail and digital teams work together rather than compete with one another.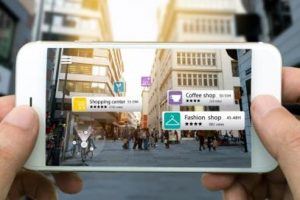 With Social Retail Platform one can set up own beacon-powered notifications that will be triggered on the Social Retail app or on your own mobile app. Bluetooth needs to be turned on to start receiving notifications.
The mobile app delivers proximity marketing notifications to local consumers and pays per notification. All from your smartphone with the help of Social Retail mobile to mobile app.
With Social Retail licenses, attract nearby consumers through their smartphones to increase foot traffic in your stores. With Social Retail Mobile to Mobile, you take a picture of a product on sale, and people walking by your stores will receive a notification of this sale.
From the Social Retail platform, you can manage the messages of all your stores and send customized notifications. Analyze the results: each store is autonomous, and you control everything.
From your smartphone, take a picture of a product, indicate additional info about it then send it out your mobile notification on the physical web via Social Retail's platform. With Social Retail Mobile to Mobile, you only pay when you get the results.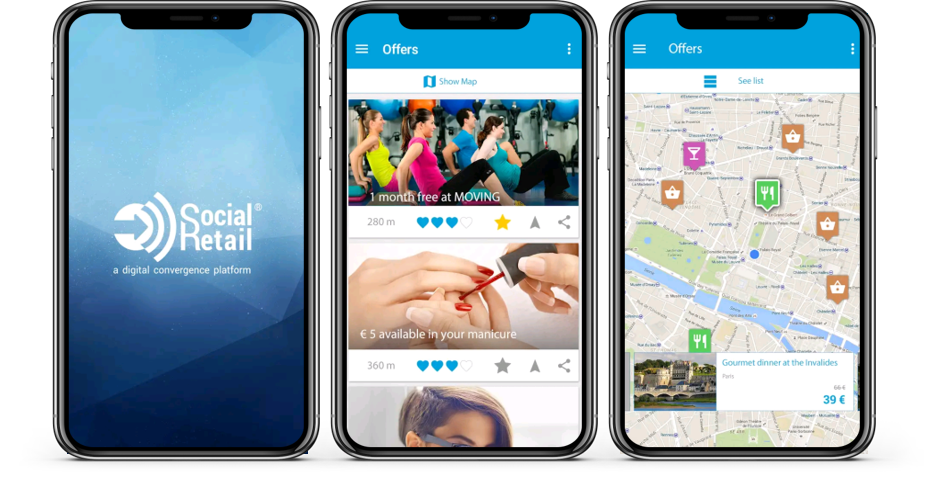 SALIENT FEATURES
Set your preferences
Set notification frequency
View nearby offers
View offer details
View the navigation path on the map to a specific offer
Set offer as favorite
Rate an offer
Get the latest news
Manage loyalty cards
Developed for Android and iOS platform
Use of IoT technology
TECHNOLOGY

Developed using native technologies – Objective C for iOS, Core Java for Android.

APPLICATION BENEFITS

The multitude of functional capabilities include:
Managing connected campaigns per store or managing the entire network through centralized supervision.
Local or remote management of messages and mailing lists based on the brand message.
Posting on social networks — analyze and control tools.
Management and distribution of all types of media: photos, music, videos, slide shows, web content, RSS feeds, Management mono, and multi-screen.
The Social Retail platform allows planning, administration, and distribution in a few clicks.
Social Retail Mobile to Mobile is a paying-per-result and without a long-term commitment.
Social Retail Mobile to Mobile helps you adapt your business to this frenetic pace by simplifying the delivery method and rendering it fluid from a small screen.
Emorphis Technologies is a world-class software development and solutions company that truly believes in "Innovation in motion". Delivery innovation on the go at an accelerated pace has been our success mantra to date. Over the years we have provided value to our clients in the field of enterprise mobility, cloud, IoT, backend development, Big Data Analytics, and Blockchain.
We serve industries ranging from unicorns, and startups to large multinationals in the healthcare, telecommunications, fintech, retail, and publishing industry. Our go-to-market software products – iStatement, iPublisher and iBuggy have proved our metal with positive beneficial customer testimonials. We help our clients with successful product development, consulting services, and testing (manual & automated).
We have profound experience & expertise on various technologies like .Net, J2EE, PHP, iOS, Android and Cloud Computing viz. Amazon Web services (AWS), Software QA & testing (Manual & Automation). Our designed products are cloud ready and can be readily deployed on AWS/Azure cloud infrastructure.
Our pivot on engineering innovation and R&D helps quicken time-to-market, ensuring high quality at economies of scale, delivering cult competency  for the global marketplace. We ensure that your ideas, concepts and requirements are backed by brilliant execution at our end. Having said that we extend end-to-end ownership of product/application design, development and deployment.
Contact us
(USA)
+1 408 409 7548
+1 408 409 2024
(India)
+91 731 408 9351