iStatements is an enterprise platform created by Emorphis that generates highly interactive HTML, and PDF statements. The Customer Communication Management Platform has been implemented in one of the top banks in India, as well as some of the top NBFCs. The implementation involves creating a large volume highly interactive, HTML, and PDF statements, and their delivery to customers on a timely basis.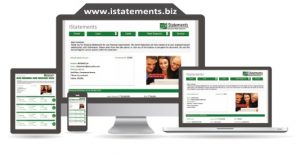 Top banks in India usually have a large customer base, running into millions, and spread across different segments. The legacy customer statements that banks had been using lacks the ability of:
Provide their customers an intuitive, rich, and engaging experience, through the statements they receive.
Provide a consolidated view to customers of their relationship with the bank
Include analytics in an easy to understand graphical form that provides key insights to their customers regarding their savings, expenses, investments, etc
Deliver targeted offers to its customers
A Customer Communication Management platform to meet the above objective needs to be flexible, scalable, and easy to maintain. It needs to meet strict SLAs in terms of the delivery deadline of monthly statements to customers. This also requires the solution to be really fast, to be able to generate millions of statements in the stipulated time frame. Ease of integration with different systems in the bank is also a major factor. The solution is required to generate interactive HTML, and PDF statements that work well on mobile devices, like tablets, and smartphones. An important requirement is that the solution has to pass the strict security guidelines that a bank has to follow. Also, because the bank usually looks to make this offering more and more valuable to customers by adding features to it over time, the solution needs to accommodate changes easily.
OUR SOLUTION

Considering the factors above, we developed a product called iStatements, a Customer Communication Management platform that is an excellent fit. The platform has been designed specifically with such goals in mind. It is optimized to make full use of the available computing resources and can be scaled horizontally to meet performance criteria. It is highly customizable.
iStatements, a Customer Communication Management platform, can interact with other systems using different protocols and can accommodate a wide variety of UI designs. The security safeguards required in such a system have also been incorporated in the implementation. iStatements don't hold any customer's data to maintain data privacy. The Customer Communication Management platform can work in both batches, as well as real-time mode, delivering both scheduled and on-demand statements to customers. On-demand generation allows the businesses to create and send individualized communications in real time, catering to specific customer requests or immediate needs. Batch generation, on the other hand, enables the business to generate and distribute communications in bulk, such as monthly statements or promotional campaigns, efficiently and on a scale. 
Besides the capabilities of the product, an experienced, and competent technology team is key to the success of an implementation. Emorphis has a team that is able to work efficiently with different stakeholders, delivering timely rollouts without compromising quality.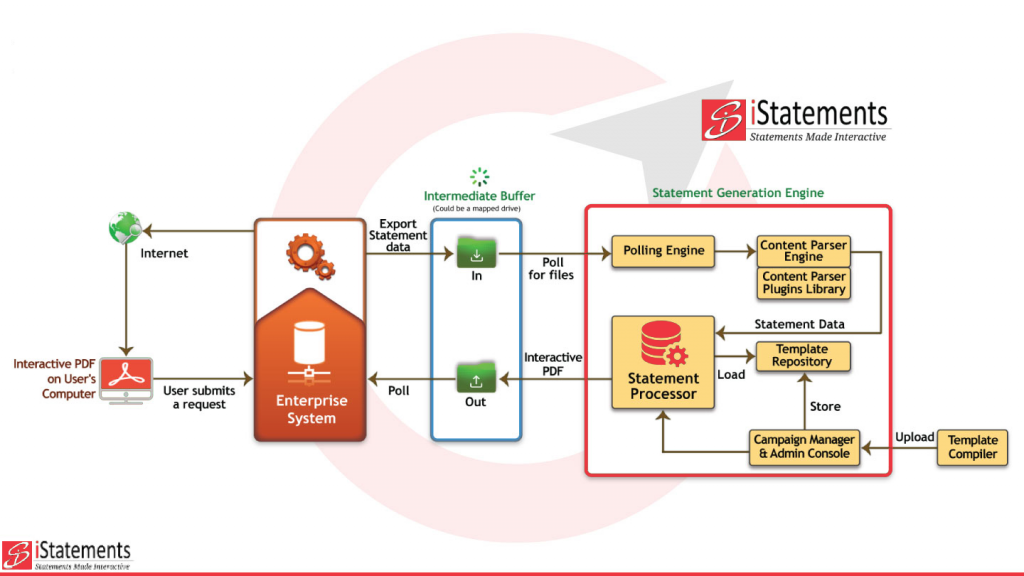 Salient Features
PLUG & PLAY: Fully automatic PDF generation engine.

 

MICROSITE: Dynamic PDF statement like micro website.

 

ONLINE / OFFLINE: Supports both online and offline modes.

 

REAL-TIME: Provides multi-tab online experience in PDF.

 

SORT / SEARCH: Search and sort critical data by various filters.

 

MULTIMEDIA: Plugin any video and image to cross-sell or engage.

 

GRAPH / CHART: Interactive and attractive charts to represent data.

 

DATA DRILL: Granular level drill down to statement data.

 

CUSTOMIZED: Easy to customize as per enterprise branding.
Key Benefits
The application benefits can be further subdivided into two categories; 'Benefits for Businesses' and 'Benefits for Customers'. 
Benefits for Businesses
Drives customer engagement for improved customer loyalty.

 

Rich media marketing platform with the highest level of personalization.

 

With dedicated advertising space, now upsell and cross-sell to your customers.

 

Provides multiple touch points to engage with your customers.

 

Put your offer in the spotlight, with our dedicated multimedia content.

 

Interact with your customers, with our seamless direct two-way communication engine.

 

Personalize and execute targeted promotional campaigns.

 

Recurring revenue assurance is guaranteed.

 

Offers Seamless integration with your current environment.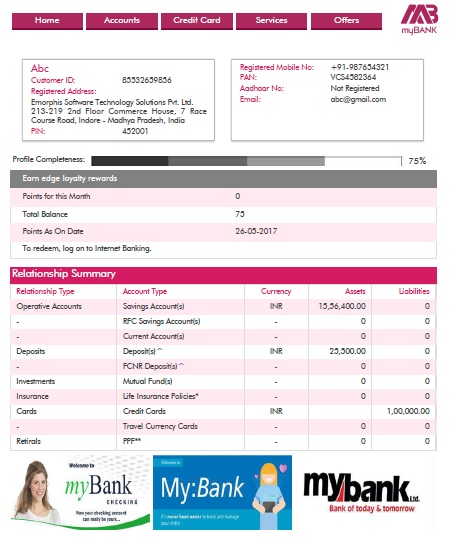 Benefits for Customers
Microsite offers self-service portal.
Multi-accounts summary in one statement.
Search, sort & compare key financials / statements data and information.
Empowers individuals with improved decision-making assistance using smart data visualization.
Key account trends showcase with Business Analytics.
Perform comparative analysis of spending patterns, and portfolio distribution.
Take quick actions such as register de-register for direct bill payments from the statements.
Manage requests on the go – Cheque Book, PIN Change.
Serves as a gateway connecting directly to the Contact center/Customer Care.
Technology
JAVA
Templating Engine
Sophisticated Multithreading
Emorphis Technologies is a world-class software development and solutions company that truly believes in "Innovation in motion". Delivery innovation on the go at an accelerated pace has been our success mantra to date. Over the years we have provided value to our clients in the field of enterprise mobility, cloud, IoT, backend development, Big Data Analytics, and Blockchain.
We serve industries ranging from unicorns, and startups to large multinationals in the healthcare, telecommunications, fintech, retail, and publishing industry. Our go-to-market software products – iStatement, iPublisher, and iBuggy have proved our metal with positive beneficial customer testimonials. We help our clients with successful product development, consulting services, and testing (manual & automated).
We have profound experience & expertise in various technologies like .Net, J2EE, PHP, iOS, Android, and Cloud Computing viz. Amazon Web services (AWS), Software QA & testing (Manual & Automation). Our designed products are cloud-ready and can be readily deployed on AWS/Azure cloud infrastructure.
Our pivot on engineering innovation and R&D helps quicken time-to-market, ensuring high quality at economies of scale, delivering cult competency for the global marketplace. We ensure that your ideas, concepts, and requirements are backed by brilliant execution at our end. Having said that we extend end-to-end ownership of product/application design, development, and deployment.
Contact us
(USA)
+1 408 409 7548
+1 408 409 2024
(India)
+91 731 408 9351