Indian NBFC Our client is a prominent Non-Banking Financial Company (NBFC) based in India. They specialize in providing various financial services, including loans, to individuals and businesses across the country. As the lending industry continues to evolve and digital platforms gain popularity, the client recognized the need to establish a loan aggregator platform to streamline their loan processing and provide a convenient borrowing experience to their customers.

The client faced several challenges in the existing loan application and approval process. The manual paperwork and lengthy approval timelines often resulted in delays, dissatisfied customers, and lost opportunities. Additionally, the lack of a centralized platform made it difficult for borrowers to compare loan options from different lenders, leading to confusion and limited choices.
To address the client's challenges, we developed a comprehensive loan aggregator platform that combined a user-friendly web application and a mobile app. This solution aimed to simplify the loan application process, enable borrowers to compare multiple loan options and facilitate quicker approvals. By leveraging technology, we aimed to provide a seamless and efficient borrowing experience for the client's customers.
Platform Features
User Registration: We implemented a simple and secure registration process for borrowers, allowing them to create personalized accounts and manage their loan applications.
Loan Comparison: The platform integrated with various lending institutions and presented borrowers with a comprehensive list of loan products, enabling them to compare interest rates, repayment terms, and other crucial details.
Online Application: We designed an intuitive online loan application form that collected all necessary information from borrowers. This eliminated the need for physical paperwork and streamlined the application process.
Creditworthiness Assessment: Our solution incorporated advanced algorithms to assess the creditworthiness of borrowers based on their financial history and other relevant factors. This enabled lenders to make informed decisions quickly.
Document Upload: Borrowers could securely upload their supporting documents directly through the platform, eliminating the hassle of physical document submission.
Instant Approval: By automating the loan approval process, we significantly reduced the approval time. Borrowers received instant notifications regarding the status of their loan applications.
EMI Calculator: The platform featured an EMI (Equated Monthly Installment) calculator that allowed borrowers to estimate their monthly repayment amounts based on the loan amount, interest rate, and tenure.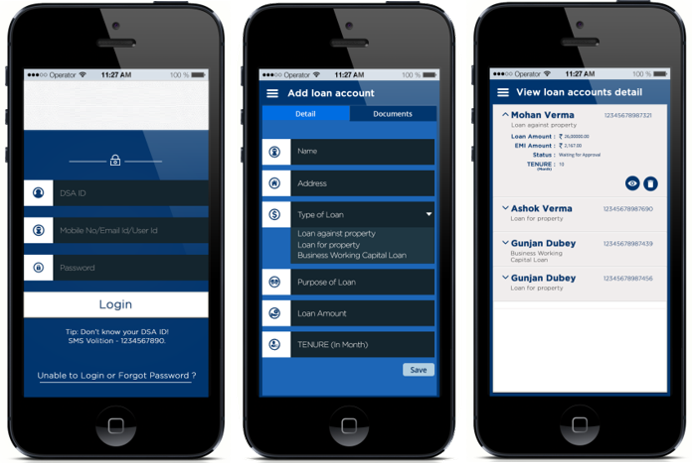 Benefits Delivered
Our loan aggregator platform provided several benefits to the client and their customers:
Streamlined loan application process: The platform eliminated the need for physical paperwork, reducing manual effort and saving time for both borrowers and lenders.
Increased loan options: Borrowers gained access to a wide range of loan products from multiple lenders, enabling them to choose the most suitable option for their needs.
Faster approvals: By automating creditworthiness assessments and loan approval procedures, the platform significantly reduced the approval time, enhancing customer satisfaction.
Enhanced transparency: Borrowers could compare loan options side by side, empowering them to make informed decisions based on transparent and comprehensive information.
Improved customer experience: The user-friendly interface and simplified application process provided a seamless borrowing experience, resulting in higher customer satisfaction and loyalty.
Technology Used
JAVA
Swift for iOS
Kotlin for Android
Emorphis Technologies is a world-class software development and solutions company that truly believes in "Innovation in motion". Delivery innovation on the go at an accelerated pace has been our success mantra to date. Over the years we have provided value to our clients in the field of enterprise mobility, cloud, IoT, backend development, Big Data Analytics, and Blockchain.
We serve industries ranging from unicorns, and startups to large multinationals in the healthcare, telecommunications, fintech, retail, and publishing industry. Our go-to-market software products – iStatement, iPublisher, and iBuggy have proved our metal with positive beneficial customer testimonials. We help our clients with successful product development, consulting services, and testing (manual & automated).
We have profound experience & expertise in various technologies like .Net, J2EE, PHP, iOS, Android, and Cloud Computing viz. Amazon Web services (AWS), Software QA & testing (Manual & Automation). Our designed products are cloud-ready and can be readily deployed on AWS/Azure cloud infrastructure.
Our pivot on engineering innovation and R&D helps quicken time-to-market, ensuring high quality at economies of scale, delivering cult competency for the global marketplace. We ensure that your ideas, concepts, and requirements are backed by brilliant execution at our end. Having said that we extend end-to-end ownership of product/application design, development, and deployment.
Contact us
(USA)
+1 408 409 7548
+1 408 409 2024
(India)
+91 731 408 9351