The UAE's newspaper publishing house brings you a refreshing news app that will always keep you updated on the latest news, gold rates, exchange rates, prayer timings, live cricket scorecards, and weather. With a grid-based layout that's eye-catchy, yet easy and convenient, you won't miss anything important.
The unparalleled coverage of the UAE, international, regional, sports, business, and legal news will ensure that the subscribers and readers don't have to go anywhere else. The app also provides the latest cinema listings of all movies playing in the UAE.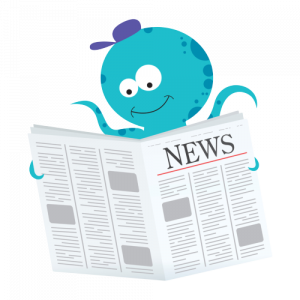 The newspaper publishing house is a daily English newspaper published in Dubai, UAE. It is one of the oldest and longest-running newspapers focused on news and lifestyle.
The newspaper publishing house has one core objective – to get their stories into the hands of the customers. New technologies have changed the way news is disseminated all over the world. There is a substantial paradigm shift in the way we consume content.
While print is still around, there's no denying that digital is where publishers need to focus their efforts in the present and for the future. The publishing house endeavors to adopt a multichannel presence – print, desktop, mobile, and app. The mobile app is a huge part of the news delivery system and overall strategy, and most of their audience wants to access the content on mobile rather than on desktop or print.
The newspaper is successful because of its prioritization of giving its audience a great reading experience, for whatever device they are on. The mobile app we designed had a simple and clear homepage, including a navigation menu accessible from the upper left-hand corner. As per the electives chosen, stories are suggested relating to sports, business, politics, and much more. In short, delivering the most relevant results right away. The app also makes it incredibly easy to personalize at various points in the mobile app. The native navigation menu defines for users the main categories they want to see. The native app makes it easier to navigate.
Users can also set their own Push Notification preferences and can segment the notifications by topic, in order to make sure that the notifications they receive are always relevant. The app also allows users to save stories for later reading as bookmarks – especially useful for people in a hurry or on a commute. Saving articles for later means you won't miss stories you want to read later. When users are logged in, this helps the app to determine which kinds of stories would best be served to the user throughout the rest of the experience.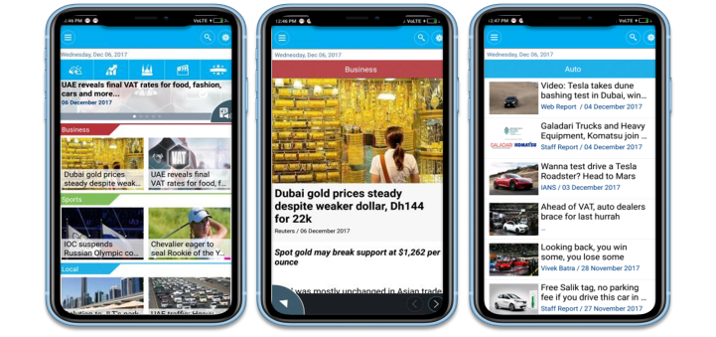 SALIENT FEATURES

Highly intuitive mobile app
News-based mobile application
Choose news categories
Get notifications about the latest news
Share news on social platforms
Utilities like flight info, weather info, prayer times, etc.
Bookmark a news
Text-to-speech option to enable voice-based news reading
Keywords-based news search
Designed to run on both Android and iOS platforms
APPLICATION BENEFITS

It publishes articles from different sources over the Internet, organizes them, and presents them in just one place.
Very accessible, easy to read, and scroll; through different kinds of articles and information categories.
With a refreshed and renewed strategy adopting digital and mobile mediums, it has experienced a new age of subscription and viewership.
The mobile app has become a huge driver of growth (both in subscriptions and revenue)
According to company sources, there is an increase of 18% in viewership in Dubai.
TECHNOLOGY USED

Developed using native technologies – Objective C for iOS, Core Java for Android.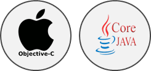 Emorphis Technologies is a world-class software development and solutions company that truly believes in "Innovation in motion". Delivery innovation on the go at an accelerated pace has been our success mantra to date. Over the years we have provided value to our clients in the field of enterprise mobility, cloud, IoT, backend development, Big Data Analytics, and Blockchain.
We serve industries ranging from unicorns, and startups to large multinationals in the healthcare, telecommunications, fintech, retail, and publishing industry. Our go-to-market software products – iStatement, iPublisher, and iBuggy have proved our metal with positive beneficial customer testimonials. We help our clients with successful product development, consulting services, and testing (manual & automated).
We have profound experience & expertise in various technologies like .Net, J2EE, PHP, iOS, Android, and Cloud Computing viz. Amazon Web services (AWS), Software QA & testing (Manual & Automation). Our designed products are cloud-ready and can be readily deployed on AWS/Azure cloud infrastructure.
Our pivot on engineering innovation and R&D helps quicken time-to-market, ensuring high quality at economies of scale, delivering cult competency for the global marketplace. We ensure that your ideas, concepts, and requirements are backed by brilliant execution at our end. Having said that we extend end-to-end ownership of product/application design, development, and deployment.
Contact us
(USA)
+1 408 409 7548
+1 408 409 2024
(India)
+91 731 408 9351