With the advent of the smartphone, there are a million and one ways to keep abreast of even the most obscure of news sources.
Having said that – Mobile phones are some of our most personal devices. They've changed how we produce, distribute, and engage with the news.

Leading Indian Media Conglomerate has a flagship fortnightly Indian English-language news magazine published for the Indian audience. The group has grown to be one of India's most diversified media conglomerates with interests in hugely scalable businesses. The portfolio encompasses magazines, TV channels, and newspapers.
While having a strong website and desktop experience to draw from is crucial for news agencies, the mobile app promises something more appealing to most of the viewership audience. For publishers hoping to attract and retain an audience, the news mobile app could prove to be the breeding ground for greater, quicker, and longer-retained subscribers.
With the app, there is a genuine attempt to create a more personalized and customizable news app, redesigned from the ground up to fit how people consume news on mobile devices.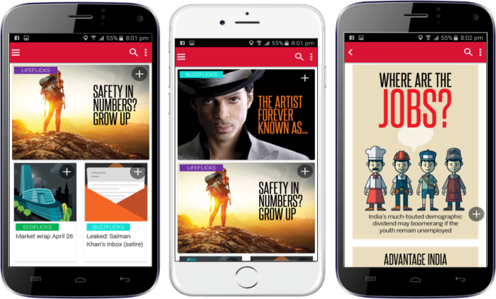 THE SOLUTION
At Emorphis Technologies, our aim was clear to create a seamless experience where users are empowered to choose which news section fits user interests. The news app includes several innovations based on mobile usage patterns, including a newsfeed-style design that takes a cue from social media platforms. We designed a flexible system of storytelling components that let them tell each story in a way that fits it.
The elegant and intuitive mobile app presents news content in a simple and concise way, automatically generating concise summaries that are easy for the user to digest. The user interface is state-of-the-art with no buttons and a minimalist approach. The innovative design gestures make sharing articles and playing with the app fun. Users can also share summaries with friends through social channels, SMS, and email.
SALIENT FEATURES

Story categories
Multi-lingual
Template based stories
Search a story
Share stories on social media
Like / dislike a story
SaaS and cloud deployment
Google Analytics integration
Readymade APIs for consumption on any platform
Designed to run on both Android and iOS platforms
APPLICATION BENEFITS

Follow the news: Users can personalize newsfeeds by picking the topics and news channels they are interested in.
First things first: It's easy for users to rearrange the app's main channels and add custom ones.
Home screen with customized navigation and feed-style user interface.
Video news from varied sources is seamlessly integrated.
User-selected feeds are at the top of the screen, and app navigation is at the bottom.
Easy reading experience with different font sizes and spacing to create an ideal view.
TECHNOLOGY USED

Developed with hybrid technology – Cordova, and AngularJS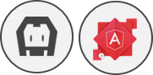 Emorphis Technologies is a world-class software development and solutions company that truly believes in "Innovation in motion". Delivery innovation on the go at an accelerated pace has been our success mantra to date. Over the years we have provided value to our clients in the field of enterprise mobility, cloud, IoT, backend development, Big Data Analytics, and Blockchain.
We serve industries ranging from unicorns, and startups to large multinationals in the healthcare, telecommunications, fintech, retail, and publishing industry. Our go-to-market software products – iStatement, iPublisher, and iBuggy have proved our metal with positive beneficial customer testimonials. We help our clients with successful product development, consulting services, and testing (manual & automated).
We have profound experience & expertise in various technologies like .Net, J2EE, PHP, iOS, Android, and Cloud Computing viz. Amazon Web services (AWS), Software QA & testing (Manual & Automation). Our designed products are cloud-ready and can be readily deployed on AWS/Azure cloud infrastructure.
Our pivot on engineering innovation and R&D helps quicken time-to-market, ensuring high quality at economies of scale, delivering cult competency for the global marketplace. We ensure that your ideas, concepts, and requirements are backed by brilliant execution at our end. Having said that we extend end-to-end ownership of product/application design, development, and deployment.
Contact us
(USA)
+1 408 409 7548
+1 408 409 2024
(India)
+91 731 408 9351