The entire city life at your fingertips through a Smart City App for native & web. Local businesses easily manage their presence and flourish in Smart City App.
With the help of this app, a city can be marketed to travelers.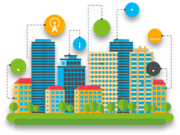 The expression "smart city" has been used for several years by several technology companies and serves as a description for the application of compound systems to integrate the operation of urban infrastructure and services such as buildings, transportation, electrical and water distribution, and public safety. A smart city can be described as a city that:
Allows real-world urban data to be collected and analyzed using software systems, server substructure, network infrastructure, and client devices.
Implements solutions, with the support of instrumentation and interconnection of sensors, actuators, and mobile devices.
Can combine service production and an intelligent environment, exploits accessible information in its activities and decision making and adopts information flows between the municipality and the urban or business community.
Cities are now transforming from digital cities to smart cities, digital or intelligent cities that are more technology-oriented equivalents of smart city concepts. A city becomes "smart" when it is instrumented, interconnected, adaptive, autonomous, learning, self-repairing, and robust. Parts of its infrastructure and facilities are digitally connected and optimized by using ICT to deliver services to their citizens and other stakeholders.
Smart cities are deploying online services in diverse sectors of cities. An online service, also called Software as a Service (SaaS), is a service delivered by a software application running online and making its facilities accessible to users over the Internet via an interface.
The interface could be HTML obtainable via a standard client such as web browser or a web-API (application programming Interface) or by any additional means. It can represent real service that runs on the host (POP, SMTP, HTTP, etc.) or some other kind of metric associated with the host – response to a ping, free disk space, number of logged in users, etc.
The mobile app designed by Team Emorphis, brings together all city services: real time information with tourists' interests, which promotes the commercial sector and generates value to citizens. The city data and information linked to the app will provide valuable information for citizens, improve the quality of life and generate wealth. Through structured databases, the city services app suggests major attractions to the city such as important points, tourist destinations, city shops to show its offers through a web platform that facilitates management of content.
The corporate "brand" of each city, together with its services, encourages users to download the application and, at the same time, shops and businesses find in the app their target audience directly referenced by its position in the city.
The app through its functionality is cent percent customizable, drives citizen participation and promotes transparency. The app provides open communication channels, boosts culture and tourism, and creates business growth opportunity for locals.
Real-time content update
Location based search
Book attraction ticket
Upcoming event details
Mark as favourite
View latest deals
View nearby attractions
Get social ratings
View recommendations
View places to stay and POIs
Multiplatform Application
Modular Services
Quick Deployment
Adaptability to any city
User Registration & Management
Social Features
Push Notifications
Real time mobile promotions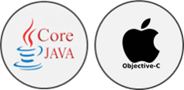 Emorphis Technologies is a world class software development and solutions company which truly believes in "Innovation in motion". Delivery innovation on the go at accelerated pace has been our success mantra till date. Over the years we have provided value to our clients in the field of enterprise mobility, cloud, IoT, backend development, Big Data Analytics, and Block Chain.
We serve industries ranging from unicorns, and startups to large multinationals in the healthcare, telecommunications, fintech, retail and publishing industry. Our go to market software products – iStatement, iPublisher and iBuggy have proved our metal with positive beneficial customer testimonials. We help our client in successful product development, consulting services and testing (manual & automated).
We have profound experience & expertise on various technologies like .Net, J2EE, PHP, iOS, Android and Cloud Computing viz. Amazon Web services (AWS), Software QA & testing (Manual & Automation). Our designed products are cloud ready and can be readily deployed on AWS/Azure cloud infrastructure.
Our pivot on engineering innovation and R&D helps quicken time-to-market, ensuring high quality at economies of scale, delivering cult competency  for the global marketplace. We ensure that your ideas, concepts and requirements are backed by brilliant execution at our end. Having said that we extend end-to-end ownership of product/application design, development and deployment.
Contact us
(USA)
+1 408 409 7548
+1 408 409 2024
(India)
+91 731 408 9351