The mobile app is for the flagship brand VeryKool dealing in smartphones and related accessories. Since the brand sells phones based on the Android platform, it was obvious that the app was to be built on the Android platform.

The VeryKool line of mobile handsets and accessories is designed to deliver form and functionality as well as unprecedented value. The company builds products that fit with the lifestyles of today's consumers – offering the quality and performance they need at a price they can afford.
VeryKool products are sold in over 20 countries and on 5 continents around the world. They are marketed under the VeryKool brand in the United States, Latin America, and the Caribbean to a customer base of network operators, retailers, and distributors. As a diverse, multi-national company, that draws on the experience, knowledge, and cultures of each country they operate to ensure we stay on top of global trends and best practices.
Owned by InfoSonics Corporation, VeryKool is headquartered in San Diego California. The essence of the brand is derived from the California lifestyle – a look, feel, and voice that comes from living with the sun, sand, and surf. The VeryKool team and products are inspired by the city's ideal climate for creating a beautiful environment and innovative technology. The company understands that form and design are just as important as performance and speed and are committed to delivering both.
VeryKool has extensive sales and operational presence in the United States and around the world and is always in the field listening to customers so they can better serve. The product management team is constantly working to keep the portfolio of products fresh and exciting. They are proud of their ability to innovate and introduce competitive products, both in terms of feature sets and pricing. And that is what makes them VeryKool.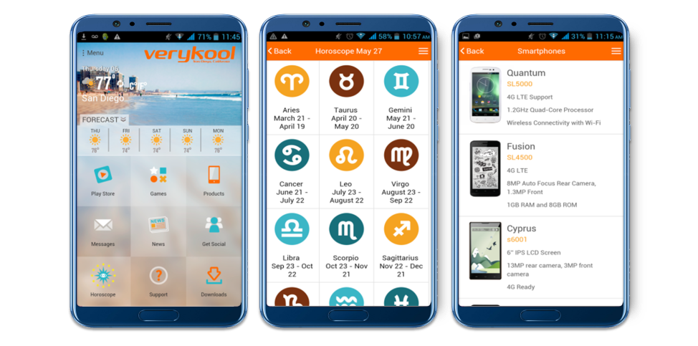 VeryKool company dealing in smartphones and related accessories wanted to come up with a mobile app where customers and fans can sign up / register and log in to the mobile app. Customers interested in buying VeryKool smartphones can browse, select and buy through different categories and should be able to apply filters on key parameters such as lens, screen size, camera quality, and processors.
Emorphis mobile application design and development team came up with a simplistic, minimalistic yet elegant and stylish mobile application. The mobile app apart from showcasing featured smartphones also provides key data and information on weather forecasting, horoscopes. Any new mobile phone launch or update along with discounts and offers are sent through push notifications.
Built on Android
View weather forecast
View mobile products
View horoscope
Push notifications
View messages
View product details
Latest news and events
Easy shortcut navigation to the play store through the mobile app.
In leisure time, one can enjoy preloaded games with the app.
Browse through the range of products with easy navigation.
Receive important messages regarding offers and discounts.
In their free time, the app subscribers can scan through the latest news, get social and view horoscope details.
There is important one-button press navigation to support after-sales service and important downloads such as Android OS updates.

Emorphis Technologies is a world-class software development and solutions company that truly believes in "Innovation in motion". Delivery innovation on the go at an accelerated pace has been our success mantra to date. Over the years we have provided value to our clients in the field of enterprise mobility, cloud, IoT, backend development, Big Data Analytics, and Blockchain.
We serve industries ranging from unicorns, and startups to large multinationals in the healthcare, telecommunications, fintech, retail, and publishing industry. Our go-to-market software products – iStatement, iPublisher, and iBuggy have proved our metal with positive beneficial customer testimonials. We help our clients with successful product development, consulting services, and testing (manual & automated).
We have profound experience & expertise in various technologies like .Net, J2EE, PHP, iOS, Android, and Cloud Computing viz. Amazon Web services (AWS), Software QA & testing (Manual & Automation). Our designed products are cloud-ready and can be readily deployed on AWS/Azure cloud infrastructure.
Our pivot on engineering innovation and R&D helps quicken time-to-market, ensuring high quality at economies of scale, delivering cult competency for the global marketplace. We ensure that your ideas, concepts, and requirements are backed by brilliant execution at our end. Having said that we extend end-to-end ownership of product/application design, development, and deployment.
Contact us
(USA)
+1 408 409 7548
+1 408 409 2024
(India)
+91 731 408 9351